It is never too late for a dinner in the woods at the Parco Esploraria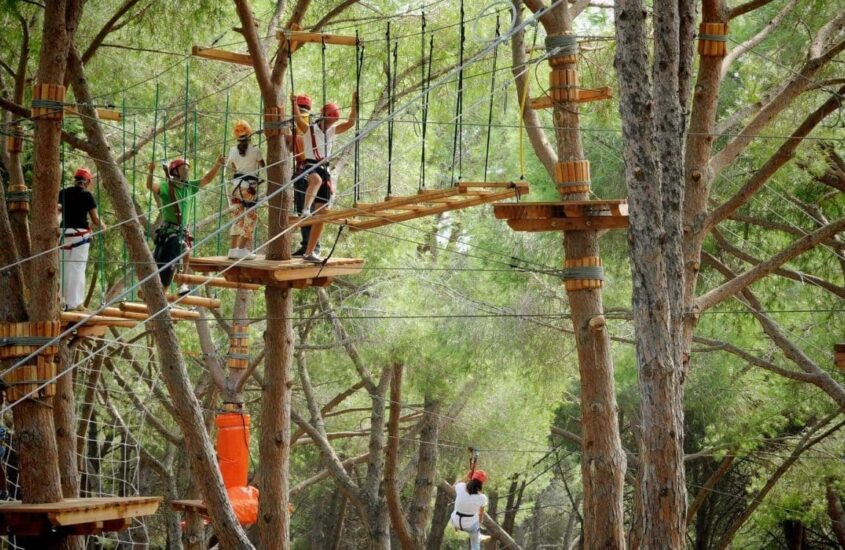 What if we had a dinner in the woods for our anniversary?
So my wife left the other day. From nothing. For heaven's sake, I appreciate her enthusiasm and often she is the one who pushes me to leave the house and try new experiences. But an adventure park?
I can not say that I am old, since now to be old it is not enough even to receive the pension (and it is not my case). I'm not even a boy, though. I already take my dose of daily pills and my knee hurts when the weather changes, I don't know if you know what I mean.
Unfortunately, damn his hard head, he convinced me again this time, so I found myself driving towards the Parco Esploraria di Zocca , in the Modena area.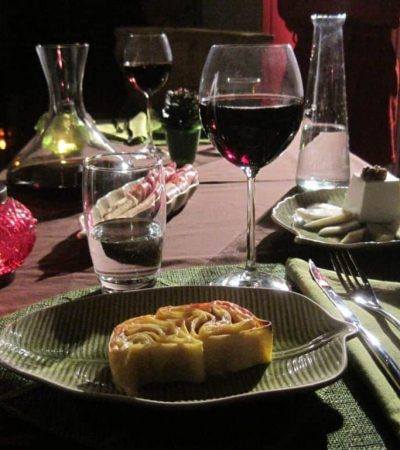 My better half had thought of everything, so we would not only have dinner in the woods , but also the so-called " albering ", in Zocca. These are paths made of suspended bridges between one branch and the other of increasing intensity.
We were harnessed by the staff, who explained how to approach each obstacle and then we launched into the enterprise. I must say that I was not a little hesitant. I have a certain fear of heights, even if I wouldn't call it a real phobia.
But between pulleys, suspended wooden logs and ropes, I managed well. As a boy I was always looking for trees to climb. I was more adventurous. And I wasn't afraid of heights, above all.
Of the many routes available, we stopped at the Variante. The Difficult was definitely out of my league. It took me a healthy nature walk to recover from that experience, so I could better explore the adventure park.
... Or stay with your feet on the ground?
Located about 830 meters above sea level, between Modena and Bologna, the Parco Esploraria is surmounted by a network of paths that intertwine among the branches of the trees. It is great to be able to watch children having fun and exploring nature in such a fun way. I envy them a little.
Walking around the area for a while, I saw that it is possible to do many different activities, even if the routes were enough for me. There is archery and climbing , with a high wall dotted with colored holds.
In addition, the area adjacent to the park can be explored in groups with special guides. Very interesting is the trekking at the Orrido di Gea , a very fun and accessible path with the crossing of a watercourse suspended on a rope!
The more I read, the more I feel like going there. I feel fitter than ever. I haven't even taken off my harness and am still alive after the rides. It is already something.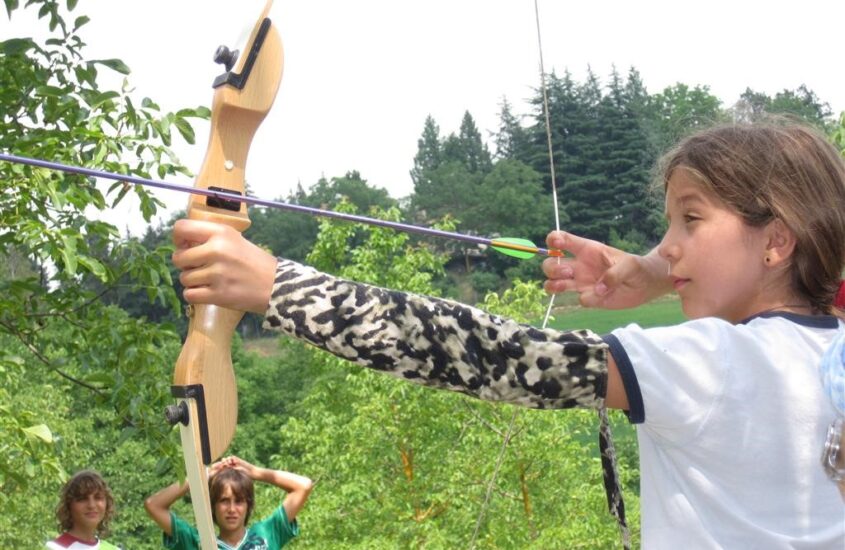 Dinner in the woods of the Parco Esploraria
After we both rested, after the exhausting exploits, the highlight of the evening finally arrived: dinner in the woods . I honestly had no idea what to expect, because my wife kept me in the dark about everything.
We had so much fun circling around the trees at the Parco Esploraria all day. We felt a little like Peter Pan and Wendy . But the day wasn't over yet, and it held surprises in store for me.
Our dinner in the woods would, in fact, take place on a platform suspended between the trees at a height of 7 meters . To get there, we had to use one of the pulleys used in the morning routes. Now it felt like I had flown up there with fairy dust.
A real dinner in the trees for a few close friends: just 3 tables with two seats each.
Flying dishes at kilometer 0
Once we reached our table, we became aware of a small problem. There was no room for the waiters. How were they going to get us the dishes?
Our skepticism was soon replaced by an amused amazement at the ingenious solution found by the organizers. In fact, after having given our orders "below", once the dishes are ready, they are climbed onto the platform through a basket connected to a rope.
Maximum intimacy for a healthy dinner in the woods : all dishes are prepared with fresh ingredients at kilometer 0, with vegetarian and vegan variants for anyone who requests them.
Not being our case, we particularly enjoyed the smoked sausage and the coppa from a farm in Zocca as an appetizer, the baked Emilian rosettes with cooked ham as a first course and the excellent selection of Modenese white cow cheeses .
In reality the menu is much, perhaps too long, longer than this and we were able to enjoy our dinner in the woods against a truly fascinating background, given by a wonderful full moon that lit up our table dimly lit by a few, intimate candles.
At the end of this long but memorable day, exhausted from the albering of zocca and sated of dinner in the woods , finally my Wendy and I can lie down under the starry sky, far from the light pollution of the city.
The firmament is the backdrop to a kiss that reminds me of why I chose to make her my life partner. Finally, satisfied, we retire to the small wooden house used only for us.
I never thought I'd feel that way again. It took a special place like the Parco Esploraria and a special person to make me return, even for just one day, that boy who didn't want to grow up in a time that I thought was lost.
Tell us yours!
And you know other dinners in the woods in Italy? Tell us below, or on our Instagram page !
Looking for more ideas for experiential dining , find our exclusive selection here!
If you liked this article, please share it by clicking on the button below
INFORMATION ABOUT THE STRUCTURE
Services offered : Activities (albering, archery, mountain biking, climbing, snow tubing, team building), Dinner in the woods, Summer centers, Excursions, Adventure trails, environmental education projects and workshops for children and teenagers of different age groups of age.
Other services: Organization of events, parties, birthdays, hen or stag parties in the woods; Overnight at the Antico Ospitale San Giacomo or in suspended tents; Possibility to participate in walks and Albering paths on the trees by 7.00 pm; Rental of structures for festivals, fairs, campsites and beaches.
Covid-19 emergency measures
do you want to reserve a table?