The Rubacuori, the Urban Château between dream and reality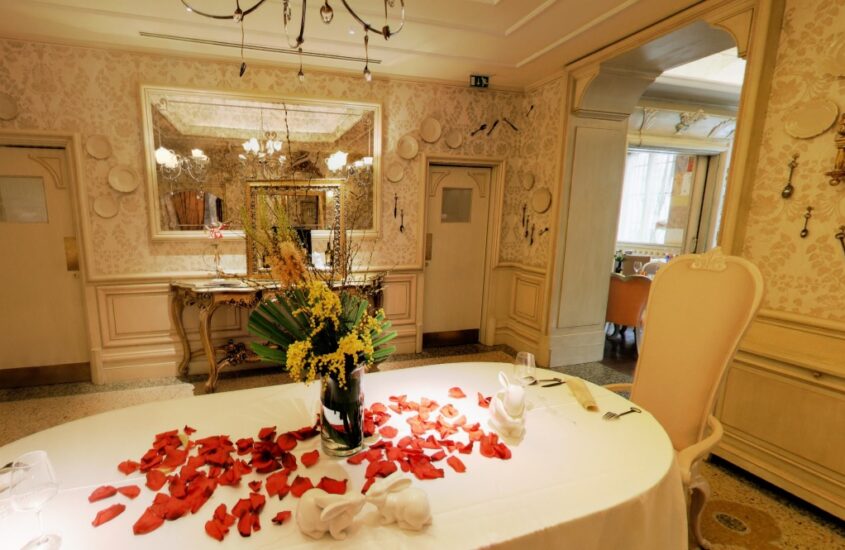 As a child I was able to daydream and invent fantastic stories. I was curious, always ready to catapult myself into unknown universes to experience new adventures with bizarre and eccentric characters. I loved fairy tales.
One day I stopped using my wild imagination and followed my mother's advice: I started living with my feet on the ground, at least until I found myself unhappy.
For a while I blamed work and family, then bad luck and time. It took me a while to realize that that unhappiness depended solely on my will.
I realized it just yesterday, while I compulsively stared at my watch and cursed who knows who, stuck in traffic near Porta Ticinese.
It was at that moment that I realized that my life had taken a wrong turn. Where had my imagination and my curiosity gone? I absolutely had to find them, I had to find myself.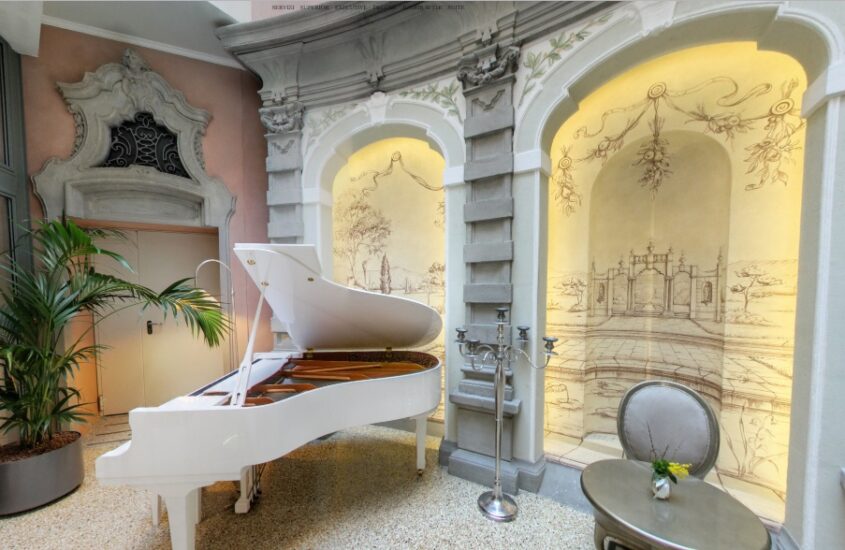 The beginning of the story at Rubacuori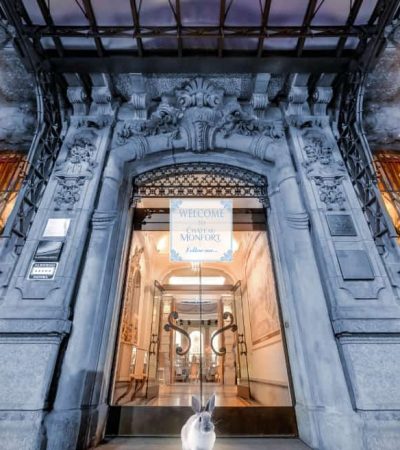 One part of me is suspended in the distant past while the other looks straight ahead, into the unknown. I wonder what's the point of living with nostalgia for the past and anxiety for the future, when I can simply be happy now.
Perhaps this is why I did not hesitate for a moment when an old childhood friend invited me to meet for a coffee: « See you tomorrow at 18:00 in the Porta Monforte district, in Corso Concordia number one . Do not miss!".
So, I put away the anger and put the watch in a drawer, put on a blue silk dress and got on the tram to reach the meeting place.
Now that I am here, in front of this huge building with Art Nouveau charm that overlooks Piazza del Tricolore, I feel a little out of place. It seems to be the ideal place for those looking for a romantic dinner in Milan or an elegant restaurant in which to spend the evening with champagne and gourmet dishes.
I'm not the type at all, or at least I guess I'm not.
The palate comes alive with the chef show
A door between reality and fantasy
I don't have a watch, but my friend is clearly late. The "old me", the one who doesn't like to waste time, would be very angry.
Yet, looking through the windows of this large door, anger seems to vanish into thin air. I glimpse the intense natural light that fills the rooms inside and envelops everything, covering floral inlays and elegant chairs from the early 1900s.
For a few moments, time seems to expand dramatically until it almost disappears.
I don't want to wait any longer, so I decide to enter. The sensation I feel is that of crossing the threshold of a faint border between reality and fantasy and I realize that what I am leaving behind is nothing more than a world built on old desires buried, but still alive.
Maybe reality is exactly what awaits me once I cross the threshold of this door and not the one I'm leaving behind?
At the moment, the only thing I'm absolutely sure of is I want to get lost in this time suspended between past and future and find out what's beyond this door .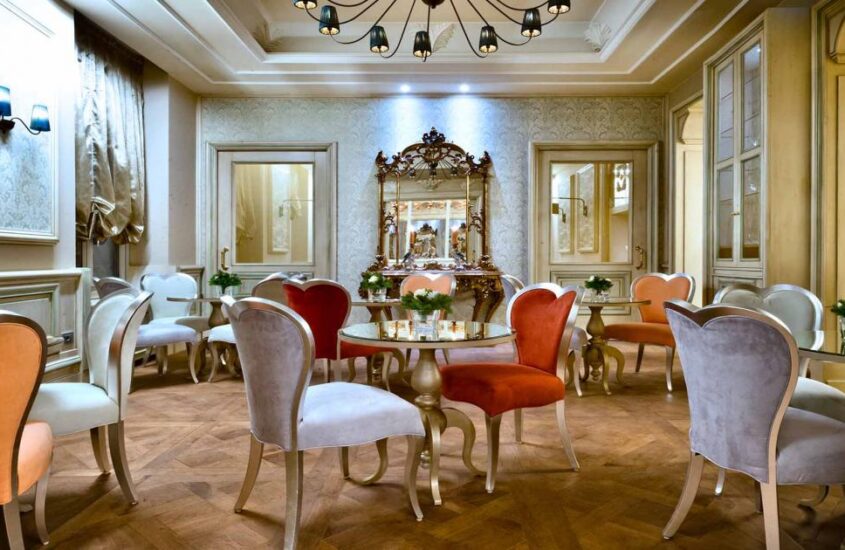 The meeting between Cupid and Psyche
It seems to enter a magical casket . It is strange that there is no one to welcome me at the entrance, but it does not upset me nor does it stop me. So, I head towards that intense light, focusing my gaze on the decorations of the floors and on the particularity of the period furniture that decorates each room.
Once again I am faced with a choice. Do I enter the hall with the huge crystal dome or do I go through the entrance by going up the stairs to the right? What if I went left instead?
I don't remember ever having doubts in life, but here it is not easy to understand which path to take. It is as if I had lost all certainty once I entered and let myself be guided exclusively by my intuition. I feel like I'm a child again.
I decide to go left and take the long staircase that takes me down to the basement atrium.
I enter the mysterious dungeons, the Hall of Enchantment and the Cell of Bacchus , a room with a wide selection of wines that surrounds a large wooden table in the center. Then I am distracted by the sound of running water. It comes from another room.
The room of desire , that's how I called it. The walls are painted with the colors of the earth and the environment awakens ancestral memories in me. The soft lights make the atmosphere even more intriguing while the water, which flows right in the center of the room, transforms my stay into a hypnotic dream.
When I immerse myself in the blue tub it is as if my mind is freeing itself of any chains and bringing to light all those buried desires. It is a catharsis. This time, mind and body are one.
I come across splendid open-air paintings radiated by day with abundant natural light.
As you walk up this ladder, each step becomes lighter. Although you find it very strange to be alone in a four-story period building, without knowing what time it is, free to explore and choose where to go, the anxiety is completely gone.
This time I am making the rules and being the protagonist of the story. So, I decide to enter all 77 rooms of the building, sure that each of these will be able to reveal something about me that I still don't know.
I had a dream starting from Nagasaki and arriving in St. Petersburg, walking through the French countryside and the streets of Beijing.
I woke up in an oriental garden, between romantic floral waterfalls and damask walls. I have traveled through four enchanted realms and experienced extraordinary adventures with Clara and the Nutcracker.
I rode a huge dragon, accompanying Princess Turandot to the discovery of an unknown love and wore the role of a geisha, trying to dissuade Madama Butterfly from taking her own life for an unborn love.
Time to wake up.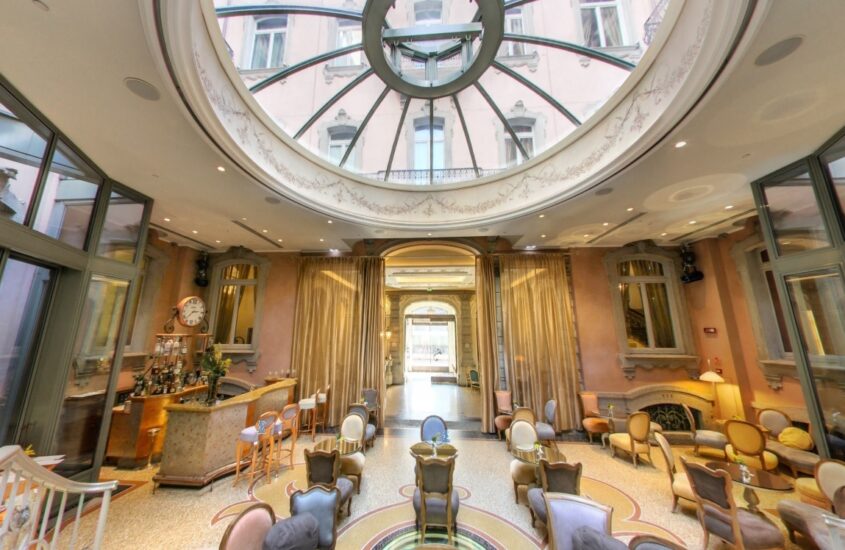 Before joining the Heartbreaker , time seemed to have crystallized in an infinite loop in which routine took over from desires, dreams and ambitions. What did I like? What was I aspiring to? What did I really want?
I wouldn't have been able to answer any of these questions before I went in, but I knew exactly what actions to take. A paradox, think about it now.
When I opened my eyes this morning, sunlight literally filled the room and rays were filtered by the leaf and branch carvings of the entirely hand-finished headboard. It was like waking up from a long dream and finding yourself in the middle of a childhood memory.
I rushed down to the Sweet Awakening Room . It was unexpectedly full of people and my friend was waiting for me. She was sitting in one of the many red velvet armchairs with a heart-shaped back, sipping hot tea at a table set with cakes, delicious sweets and ceramic teapots.
I thought I was still dreaming, at least until she looked up at me and waved her hand to me: "Alice, you finally woke up! Come, taste this tea, it's really delicious ".
This time, it was all real and I couldn't wait to start that day in the company of my old friend.
INFORMATION ABOUT THE STRUCTURE
do you want to reserve a table?
Tell us yours!
Have you ever tried one of these romantic and memorable restaurants ? How did you find yourself? Tell us about it below, or comment on social networks using the hashtag #Foodurist !
Do you like unique restaurants in Italy ? Here you will find our dedicated category!
If you liked this article, please share it by clicking on the button below